Moony Organic Cotton Nappies M 46pcs (6-11kg) - For shipping outside Auckland urban, please contact us
---
Moony Organic Cotton Nappies M 46pcs (6-11kg) - For shipping outside Auckland urban, please contact us
Natural Moony is safe even on newborn skin!

"Natural Moony," Japan's first diaper with a surface sheet made with organic cotton
Pack contents: 46pcs
For boys and girls
Weight suitability: Up to 6-11 kg / Size M
Use 5 different design techniques to make it more gentle for your baby's skin.
The first* diaper in Japan to use organic cotton on its surface sheet.
*When compared to recognized disposable diaper brands in Japan in regards to surface sheets. From 2016 research by Unicharm
The materials that come into contact with the skin are made with a weak acidic sheet that contains worry-free, additive-free ingredients
#The 4 ingredients (petroleum, fragrance, latex, and synthetic coloring) are made without any additives
New and improved! Just roll up the rompers! 3 notification strips allow you to check the diaper's wetness without having to undo any extra buttons.
*Applicable to Tape type: 3S, Newborn, S, and M sizes
*Not applicable to M,L size
New and improved!
Includes 3 types of plant-derived oils*
Also made with materials that are gentle on your baby's delicate skin
*Olive oil, jojoba oil, and rice oil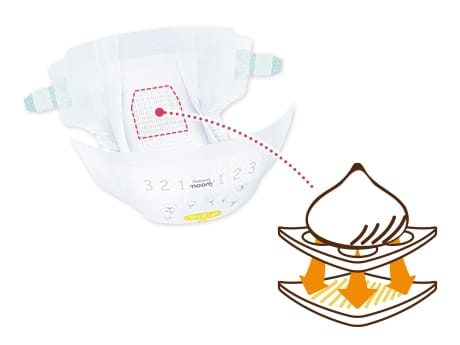 Great technology! Runny stool zone
Catches runny stool that could irritate your baby's skin by using an unevenly-textured absorption zone! It absorbs quickly and away from the skin.
*Applicable to Tape type: 3S, Newborn, S, and M sizes
*Not applicable to L size
Recommended for You